Get Mortgage Help Post Bankruptcy
Chapter 7, 11, 13 BK
Reestablish your credit
Competitive rates after a bankruptcy
FHA, Fannie Mae, Freddie Mac, Private Money
The Subprime Factor
The thing that is important to understand when trying to refinance a mortgage after filing Chapter 13 or Chapter 7 bankruptcy is that you'll likely be considered 'subprime', no matter the overall circumstances of your loan.
What this means is that you're not a 'prime' status borrower, which in turn translates to you being a larger risk to the lender who is extending you the bad-credit home loan. That increased risk means that your loan isn't going to be as favorable to you as one would be for a prime borrower. You could end up with things like:
Higher interest rates
More closing costs
Higher loan insurance costs
Higher fees or penalties
These are put in place in a subprime mortgage loan to help lenders offset the additional risk of lending to someone with a bankruptcy in their past. But despite these elements, a refinance loan can often give you lower monthly payments and other benefits that make it worth paying attention to and considering for your home. Review the current mortgage refinance rates now.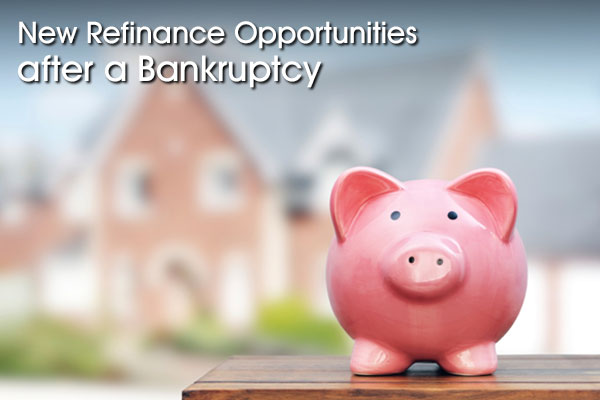 Additional Factors to Consider When Refinancing After a Bankruptcy
The first step is making sure that you meet the basic time limit guidelines associated with refinancing your mortgage following a bankruptcy claim. But there are a number of additional factors that go into not only determining if you are eligible for a home loan after a bankruptcy, but also into the overall terms and conditions of the loan.
The exact requirements will depend upon what kind of loan you're going for. An FHA loan, for example, will have some different requirements than a loan through a more traditional lender. But at their heart, the basics still remain the same. Some of the biggest things that lenders may look for when you try to refinance after filing for bankruptcy include the following.
Credit Score – Credit scores are an indicator of your overall level of risk to a lender, and they have a very big influence on your ability to secure a loan as well as your ability to get better interest rates. Bare minimums for securing a refinance loan are around 580 for certain loans, and higher for others. Also remember that the higher your credit score, the better your interest rates are likely to be.
Liquidity – An initial mortgage often requires a down payment. But with a refinance loan, you need to be able to show liquidity. That is, your home needs to be worth more than what you owe on it. The difference between worth and debt will determine the type of loan, amount, and other factors related to the loan you're seeking.
Debt to Income – Debt to income ratios are having much more of an impact on loans, including refinance loans. The better your ratio, the easier it will be for you to secure a refinance loan of your choosing.
All in all, it's important to speak directly to a professional mortgage expert to determine what kind of options you have for refinancing your mortgage. Don't let a past bankruptcy make you feel as though you have no options here – it is very possible to refinance as long as you meet the basic requirements listed above, and taking the time to do so is something that any homeowner should consider doing for themselves if they feel refinancing can better their current financial situation. Article was written by James Swift.
Recent Articles for Credit Alternatives:
8 Things to Help You Get a Mortgage Loan with Bad Credit
Does Credit Repair Help People Get a Mortgage Approval When Trying to Buy a Home?