Home Affordable Refinance Program Rules for 2018 and Beyond
The Home Affordable Refinance Program, also called the Home Affordable Refinance Program, has proven to be a valuable asset to homeowners all over the country who have been able to save a substantial amount of money on their monthly mortgage payments. This limited time program continues to exceed 100% refinancing as Fannie Mae and Freddie Mac have withdrawn all previous loan to value restrictions. If you are looking for a guaranteed mortgage refinance but are cautious because you have been rejected by other lenders because you have negative equity, this program may be answer to prayers. There are a few requirements so talking to a HARP approved lender is the first step. If you meet the requirements under HARP, you have a guaranteed mortgage refinance regardless of your Loan to Value level. There are very few guarantees in the mortgage business, so take advantage of this opportunity if you meet the eligibility standards because HARP will not last forever.
There is no minimum LTV requirement for eligible borrowers seeking to refinance their underwater mortgage. That means you are not restricted to a 100 LTV mortgage any more. Even individuals who owe more money on their home than what it is worth have been able to put this program to use in order to help get their finances under control. Individuals who have what is known as a "piggyback loan" may wonder whether this type of HARP program can benefit them as well. Find out if the Obama mortgage refinance plan offers the benefits to meet your needs. The Obama Administration continues its support for Americans to secure refinancing programs that help keep homeowners in their home regardless of the equity ratio. Read more about Obama's plan for affordable refinancing under HARP.
5 Valuable Tips for Refinancing with No Equity in Today's Market
Shop Around for Refinance Offers. While most lending companies will require that you have at least 20% equity in your house, it's not always the case. There is a small pool of lenders that have access to utilize a variety of unique refinance programs and tools to help you find a no equity mortgage refinance option. The key is not to stop at the first one. Check in and review refinancing standards with multiple sources and see which program best meets your goals and credentials. It's also good to know that some loan companies work harder than other. That's why choosing the right company is essential if you want to successfully refinance without equity. Compare refinance mortgage rates.
Focus on HARP. The Home Affordable Refinance Program was developed by government backed mortgage companies, Fannie Mae and Freddie Mac to help solve the deflated housing market that led to millions of homeowners suffering with underwater mortgages. The program works with lenders to help approve refinance loans for those with no equity in their home. This popular government program has helped countless Americans successfully complete an underwater refinance transaction. If you have been denied or rejected for a refinance mortgage because you have no equity or maybe your mortgage balance is greater than your property's value, this could be exactly the solution you need. There are a handful of lenders out there that are HARP approved, but you need to find a refinance company that gets results for this specific government program.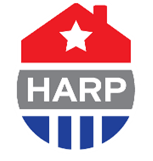 Stay on the Job. While programs like HARP are designed to help you refinance, they still hold traditional underwriting standards related to your ability to repay the loan you're asking for. In other words, you need to maintain a good, dependable work history and income for a period of time. Two years is preferred, and the longer you work somewhere, the better. This is a common-sense point, but still something that needs to be said.
Continue to Pay Your Bills. Even HARP won't be able to help you if you're sinking in unpaid debt that leads to a horrible credit profile. Yes, it's possible to achieve a refinance mortgage with a low credit score, but if the last year has been nothing but one defaulted loan after another, you'll find that you have a much harder time qualifying for an affordable refinance.
Don't Give Up. Again, this hardly seems like breaking news, but many people who could actually be approved for a loan through Home Affordable Refinance in 2017 actually give up before they've exhausted all of their options. Do not assume that just because one or two lenders rejected your previous applications that you don't have a chance. Remember that HARP guidelines and requirements have changed every year and that being denied for lack of equity will not be a problem when looking for a fixed refinance mortgage under the HARP plan.
100% Mortgage Refinance Options with HARP on Piggyback Loans?
The first, and most important, thing to keep in mind is that funds received through the HARP program cannot be used to pay off the second mortgage. This does not mean that a person is completely out of options, however. An individual can work with either the lending company that they currently have or a completely new one and see about refinancing their 2nd lien at the same time that they refinance through this program. In most cases people that have an equity loan or line of credit that exceeds the property value but seek 100% refinance loans should request a subordination agreement with the company that holds the note to their junior mortgage.
Even if an individual does nothing about their junior mortgage and keeps it exactly as is, refinancing through the Home Affordable Refinance Program can save an individual a significant amount of money each and every month. While this may not make the 2nd lien go away completely, it will allow an individual to focus more of their funds on paying off the 2nd mortgage sooner than would otherwise be possible and get back to only a single loan payment each month.
As with most refinance programs available to the government to help homeowners get back on their feet, not everyone is going to qualify for this type of program, and it will not provide the same level of benefits to each and every homeowner out there. It is well worth exploring all the different options, especially if an individual feels that they are at risk of defaulting on their mortgages or are having difficulty keeping up with their monthly payments and need a little bit of extra help to get their finances back under control so that they can go back to enjoying their home.