Credit Ratings Remained Key for Home Mortgage Loan Qualification
Find Easy to Qualify House Buying Programs
Getting approved for home loans doesn't have to be "rocket science." Although a number of lending institutions and the federal government have made important steps towards making the dream of homeownership available to more people, the recent housing crisis should make it clear that it is as much the responsibility of the borrower as it is the lender to make sure that an individual is going to be able to stay on top of their monthly mortgage payment in order to keep the home of their dreams or purchase the house that they have always wanted. Banks and mortgage companies employ underwriters to review applicant's credit ratings and then they evaluate the risk associated with the potential borrower.
Unfortunately, credit scores do not always represent the consumer's ability to make a home mortgage payment on time each month. Nationwide can match you with lenders that offer easier qualification standards on many home mortgage programs.
Finding a home loan for people with bad credit scores can be complex. Yes, the Federal government offers home loans for bad credit but it's much easier not to go down that road if you do not have to. No money down mortgage loans are still possible with bad credit ratings, but the process of qualifying is greatly streamlined when credit scores are good.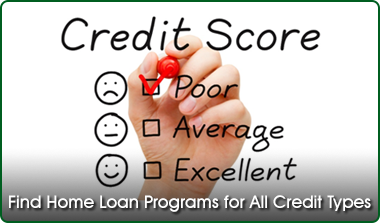 While there are mortgage lenders out there that specialize in providing almost individuals with less than perfect credit, it is important to remember that credit scores are still a crucial aspect when it comes to qualifying for the most favorable terms possible. While the FHA may be able to provide affordable loans to many individuals with lower credit scores, banks and other lending institutions often put a primary focus on the credit history and score of the person requesting the purchase loan. What a lot of people don't realize is just how easy it is for them to damage their credit score.
What You Can Do
If you already know that you have less than perfect credit, you may want to focus primarily on getting approved for a FHA mortgage with low-credit scores. Not only do they have lending standards that are designed to help a greater number of people purchase their first home, they also generally have relatively low interest rates and require a minimal down payment. This is also an excellent option for individuals who are young and are buying the very first home. Even an individual who has never missed a payment may not have a great credit history if they do not have years of regular payments in their background.
One of the biggest sources of credit problems are credit cards. The flip side of this is that credit cards can also be an excellent tool for building or rebuilding credit if a person is looking to improve their overall score. The trick here is to use the credit cards wisely and to pay them on a timely basis. Auto loans and installment loans can also be used to help boost a person's credit score and will help them understand the importance of making regular payments.
A good credit score will lead to lower interest rates and more loan options, which means that it is well worth the person taking a little time to understand what they can do to get their credit in the best shape possible.